The winner is @salmanmbstu96.
Top record: 915 likes and 336 retweets at 09:00 AM (UTC) on August 27, 2020
Also, congratulations to all winners of the Consolation Prize.
We will contact you privately via DM on Twitter.
To celebrate the launch of Pantogram and Panto Market, we will give away 150 TOMO and 50 Panto Draw Tickets this week in #PantogramChallenge.
Pantogram Challenge Prize
1st Place – 01 Prize – 100 TOMO for the top Winner;
Consolation Prize – 50 Prizes – 50 Panto Draw Tickets for 50 Winners;
In Panto Draw, we will set up a drawing machine of 50 TOMO. Specifically, this means 01 Consolation Prize Winner will have a chance to take the 50 TOMO package (the odds is 1/50).
—————————–
(*) TOTAL PRIZE: 150 TOMO + 50 Panto Draw Tickets
—————————–
Please find a demonstration of Panto Draw in the video below.
When will it happen?
Pantogram Challenge will start on August 25, 2020 at 09:00 AM (UTC), and end on August 27, 2020 at 09:00 AM (UTC).
Eventually, we will announce the result at 04:00 AM (UTC) on August 28, 2020 through our Twitter and our official Blog.
Pantogram Challenge Explained
Once the event finished, we will announce the result on our Twitter and our official blog. Your prize will be sent via a Direct Message (DM) on Twitter as a 'receive link' contains TOMO, or Panto Draw Tickets. As soon as you click on the link, you will receive your prize on Pantograph.
—————————–
(*) If your Tweet gets the highest number of likes, you will win this #PantogramChallenge.
—————————–
Hence, it would not be too hard to win this challenge. However, you might need to put in some efforts to boost the engagement of your Tweet.
How to join Pantogram Challenge?
Basically, you can join Pantogram Challenge in 03 simple steps.
Step 1: Create a Pantogram
In short, it should take less than 2 minutes to create your Pantogram card. It's absolutely FREE.
Go to Pantograph.app/pantogram;
Sign in by using Pantograph Mobile apps (iOS or Android), or Pantograph extension;
Pantograph will need you to verify the ownership of your Instagram account;
Paste a link of any image from your Instagram account to Pantogram;
Before publishing, you can add in a video, or an audio to your Pantogram;
Once published, your Pantogram card will automatically jump to Panto Auction.
Step 2: Share on Twitter
You need to share your Pantogram on Twitter as below.
Copy the URL of your Pantogram on Panto Auction then paste on your Tweet;
Include the Hashtag #PantogramChallenge;
Tag 3 friends of yours.
(*) THE LINK BELOW IS ONLY A SAMPLE.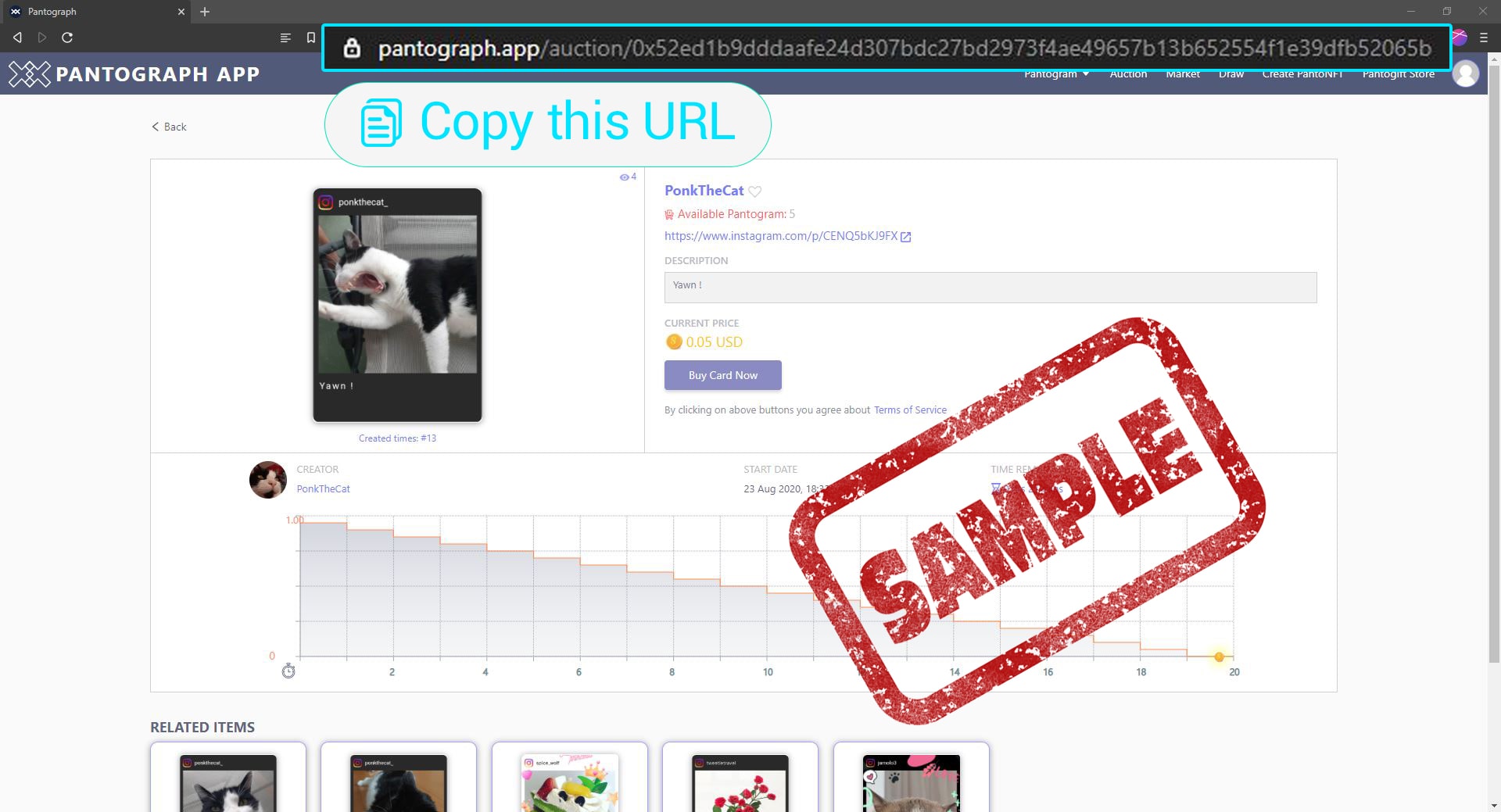 Pantogram Auction URL Sample
Step 3: Send us your Proof (IMPORTANT)
Please fill in the form below to send us the proof of your participation.
Good luck! If you have any question, please contact us on Pantograph Community – English Channel