Why do you need to sync?
By syncing Pantograph Mobile and Extension, you will be able to manage 01 account across multiple devices. In most cases, you can experience various benefits from the ecosystem of Pantograph.
Save time when switching between devices
The set up process only happens once at the beginning. As your account is synchronized between your devices, you can manage your fund, or track any transactions easily from anywhere. In short, you can access and manage your account on all of your devices. It saves your time and simplifies the process of asset management across your devices.
Manage assets efficiently
The two versions of Pantograph (Mobile & Extension) both support all tokens of TomoChain, which include TRC-21 and NFT (TRC-721). Specifically, the extension version brings you the full control on your assets while using Desktop. On the other hand, the mobile version offers a seamless on the go experience that saves time and effort.
Real-time interaction
Both Pantograph Mobile and Extension will provide real-time notifications. Basically, Pantograph will pull live data from Blockchain and notify user whether a new transaction happens on both Extension and Mobile.
Experience Dapps distinctly
Pantograph enables user to experience Dapps in a distinct way. In fact, it only takes one click to sign in securely, which saves time and protects user from most potential threads.
Start with Mobile version
Create a new account
(*) In case you don't have an account, yet.
Open the app, choose your language
Choose 'Create new wallet'
Now, you can start the syncing process.
Connect Tomo Wallet with Pantograph
(*) In case you already have an account on TomoChain
Certainly, you can connect your Tomo Wallet to Pantograph, in case you already own an account on TomoChain.
Go to your Tomo Wallet
Click on the 'Menu' icon
Click on your Wallet
Click on 'Show your Private Key', copy your Private Key
Open your Pantograph, choose your language
Choose 'Restore account from Private Key'
Insert the Private Key from your Tomo Wallet
Sync Mobile and Extension
1. Download Pantograph Extension
2. Click 'Get Started'
3. Click 'Create a Wallet'
5. Insert a password, check the checkbox,  then click 'Create'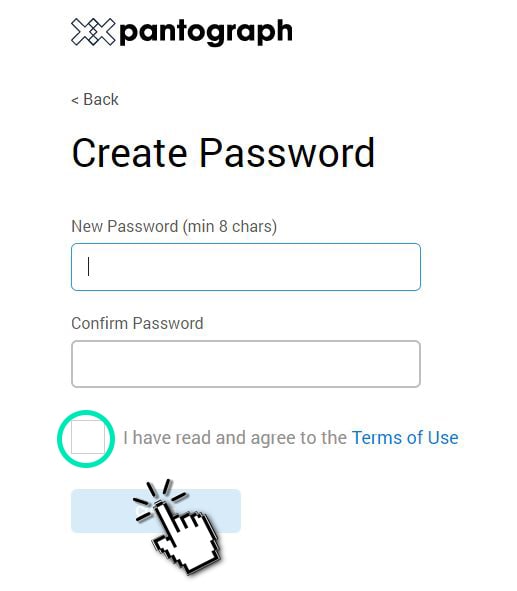 6. Write down your seed phrase, then click 'Remind me later'
7. Click on your account icon, choose import account
8. Insert your Private Key from Pantograph Mobile
Start with Extension version
You can sync your account on Pantograph Extension with Pantograph Mobile as below.
1. Go to your Pantograph Extension
2. Click on the 'Account' icon
3. Click on 'Settings'
4. Choose 'Advanced'
5. Choose 'Sync with Mobile'
6. Scan the QR Code with your mobile device, you will be able to get the Private Key
7. Download Pantograph Mobile iOS, Android, or APK
8. Open the your Pantograph, choose your language
9. Choose 'Restore account from Private Key'
10. Insert the Private Key from your Pantograph Extension