Defi Solutions for Everyone
Defi stands for Decentralized Finance, so Defi Solutions simply means Decentralized Financial Solutions.
The whole foundation of Defi is based on Smart Contact, which eliminates mediators within the process. 
It revolutionizes the way we approach financial solutions, and makes those accessible for everyone.
For instance, you can establish a saving account to earn great Annual Percentage Yield (APY) instantly all by yourself.
On the other hand, you can borrow a leverage to increase your investment without going through any screening processes.
The deal is secured when you put your digital assets (ETH, TOMO, etc.) as collateral.
Of course, there will be a small amount of interest on your loan, but you can always get your collateral back by returning the loan.
Defi Solutions minimize transaction errors and blockages by removing human errors.
Every time you access a Defi Platform, you actually interact with Smart Contract on Blockchain, rather than a centralized system operated by anyone, or organization.
Its fundamental idea creates a public trustless system that anyone can access independently and anonymously to exploit advanced financial solutions.
Started with Decentralized Exchange (DEX)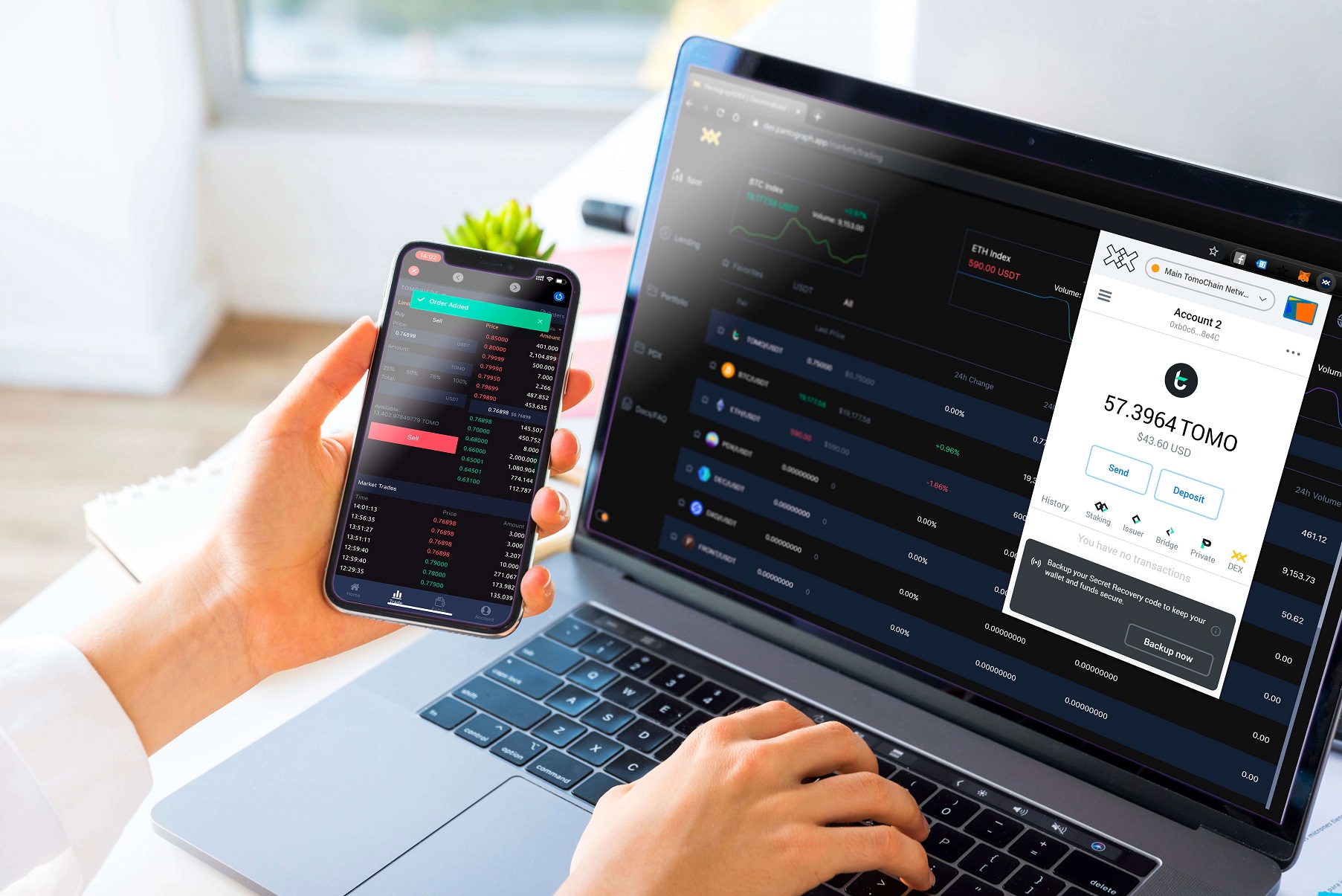 DEX grants an unlimited access to trade valuable Blockchain assets.
To start trading on a Decentralized Exchange, you only need a Decentralized Wallet. It makes all the differences between a Decentralized Exchange (DEX) and a Centralized Exchange (CEX), which requires KYC documents, bank account verification, identity verification, etc.
In fact, CEX is sometimes inaccessible for people in restricted areas, or countries due to local regulations. Hence, DEX is invented to solve the mentioned problems.
Undoubtedly, DEX offers an equal opportunity to the whole community. Anyone can trade freely from anywhere in the World without worrying about personal information breach, or cyber attack.
In the past, trading on DEX was limited due to high transaction fees, slow execution speed, and low volume. However, it's all different now with Pantograph DEX.
Within Pantograph DEX, transaction speed is improved tremendously. It only takes seconds to unlock assets, or to process a matched order.
All transaction fees are processed in USDT, which started as low as 0.001 USDT/transaction.
Besides, you can trade popular assets as Bitcoin (BTC), Ethereum (ETH), Yearn.finance (YFI), and other Blockchain Assets in USDT.
Non-custodial Wallet in the Extension Form
A non-custodial wallet will ensure the ownership of your Private Key, as it would not be stored within the wallet in anyways.
It only exists as a tool for you to interact with Blockchain data on Dapp (Decentralized Application) or DEX.
This method provides the highest security for your assets.
However, please bear in mind that if you lose your Private Key, it will be impossible to restore your wallet.
Pantograph Extension is a great choice as a Non-custodial Wallet for you to experience TomoChain Dapp and to trade securely on Pantograph DEX.
The extension is now available on Chrome, Brave and Firefox for Free.
In addition, you can synchronize your Pantograph Extension and Pantograph Mobile to manage your assets across devices.
Earn APY from Staking at the Mainstream of Defi Solutions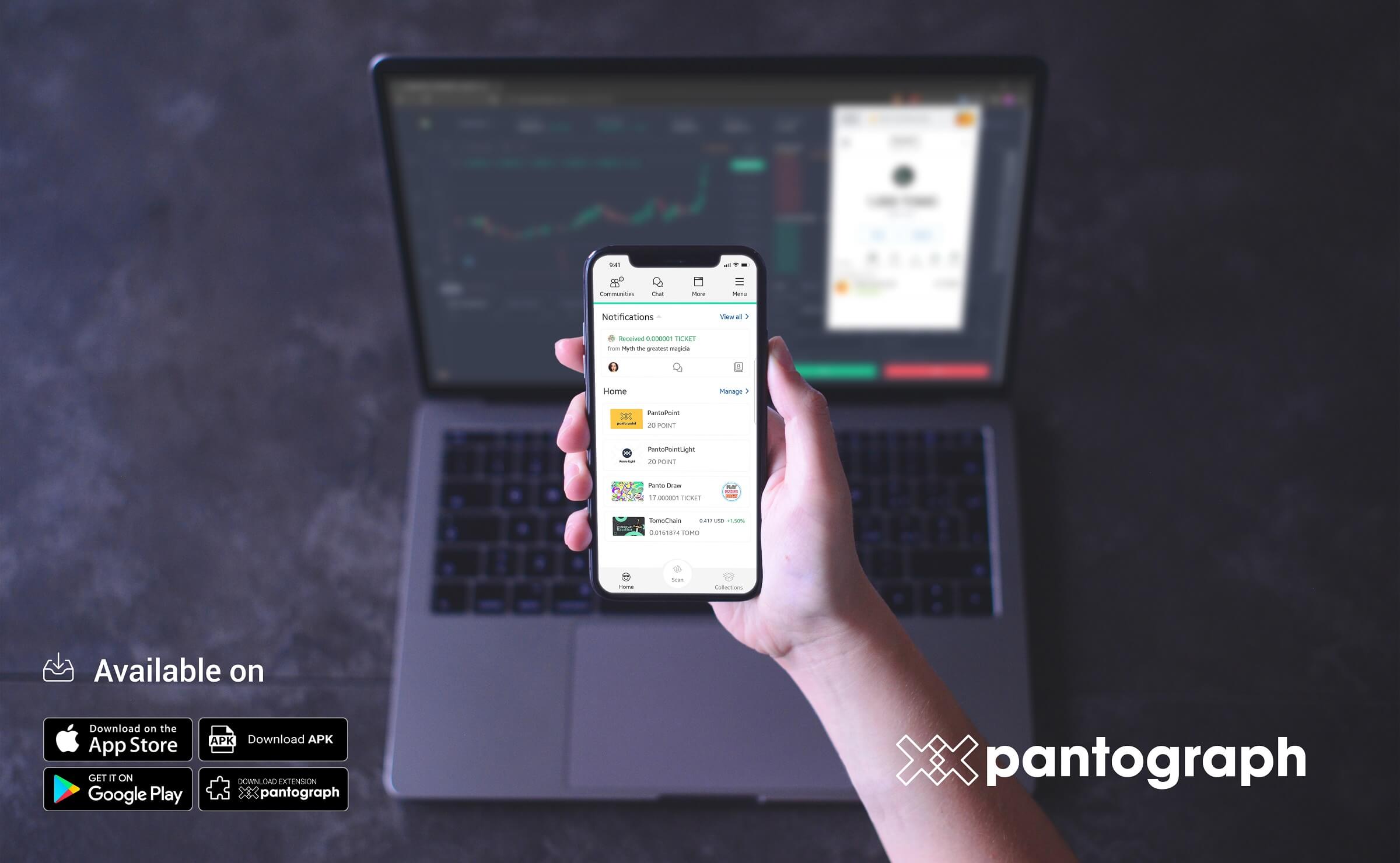 Defi Staking lets you open a saving account to earn an Annual Percentage Yield (APY) up to two figures instantly from your basement, without a need to submit any personal information.
The fundamental concept of Defi Staking is all about holding assets. 
To start staking, you will need to lock your asset in a Smart Contract. It basically means your amount of asset is taken out of market's circulation. 
From time to time, with a reduction in supply circulation, your asset value will increase.
Staking creates a healthy environment for holders as the holding value will increase steadily with APY earning and increment in market value.
At this moment, you can stake TOMO and PDX Token on Pantograph DEX to earn APY.
Decentralized Swap between assets
Decentralized Swap enables user to exchange from one asset to another instantly at the lowest slippage.
This method helps you to deal with huge orders, which increases asset liquidity tremendously.
In some cases, Swap trading is more convenient than DEX trading in execution speed.
Panto Swap is a great option when it comes to Swap trading.
You can even swap cross-chain ETH/TOMO, BTC/USDT, USDT/ETH, and more on Panto Swap.
NFT Evolution on the move
NFT stands for Non-fungible Token.
For the most part, you can turn pretty much anything to NFT. The process is called tokenization.
On Pantograph, we offer Pantogram and Panto NFT.
With Pantogram, you can turn your images and videos on Instagram to NFT, then monetize them on Panto Auction.
With Panto NFT, you can create NFTs unlimitedly and use them for multiple purposes.
Bacoor also offers a dynamic Marketplace for NFT on TomoChain which is Panto Market, where you can trade NFT at the lowest fee.
Get FREE E-book: How to gain income in the Blockchain Industry?